UW CREATE
RESEARCH
---
June 1, 2023
June 1, 2023 A team of Allen School robotics researchers has published a paper on the finer aspects of robot-assisted dining with friends. "A meal should be memorable, and not for a potential faux pas from the machine," notes co-author Patrícia Alves-Oliveira. Supported by a CREATE Student minigrant and in the spirit of "nothing about us without us," they are working with the Tyler Schrenk Foundation to…
---
May 2, 2023
UW CREATE collaborates toward a world with fewer problems and more solutions for people of all abilities. The UW College of Engineering showcased CREATE's mission, moonshots, and collaborative successes in a feature article, Rethinking disability and advancing access, written by Alice Skipton. The article is reproduced and reformatted here. According to the Centers for Disease Control…
---
April 25, 2023
Just about everybody in business, education, and artistic settings needs to use presentation software like Microsoft PowerPoint, Google Slides, and Adobe Illustrator. These tools use artboards to hold objects such as text, shapes, images, and diagrams. But for blind and low vision (BLV) people, using such software adds a new level of challenge beyond keeping…
---
April 11, 2023
The machines and devices we use every day – for example, touch screens, gas pedals, and computer track pads – interpret our actions and intentions via sensors. But these sensors are designed based on assumptions about our height, strength, dexterity, and abilities. When they aim for the average person (who does not actually exist), they…
---
November 30, 2022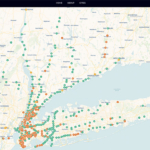 Congratulations to CREATE Ph.D. student Ather Sharif, Orson (Xuhai) Xu, and team for this great project on transit access! Together they developed UnlockedMaps, a web-based map that allows users to see in real time how accessible rail transit stations are in six metro areas including Seattle, Philadelphia (where the project was first conceived by Sharif and a friend…
---
November 8, 2022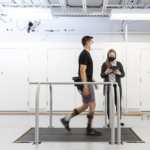 Whether she's researching how biofeedback systems can guide gait training in children with cerebral palsy or leading toy adaptation events, Alyssa Spomer is committed to advancing accessible technology. A Ph.D. student in UW Mechanical Engineering (ME) and advised by CREATE Associate Director Kat Steele, Spomer is the student chair of CREATE-sponsored HuskyADAPT. Her studies have been multidisciplinary,…
---
October 6, 2022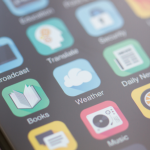 Mobile apps have become a key feature of everyday life, with apps for banking, work, entertainment, communication, transportation, and education, to name a few. But many apps remain inaccessible to people with disabilities who use screen readers or other assistive technologies. Any person who uses an assistive technology can describe negative experiences with apps that…
---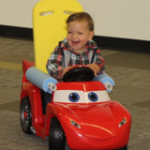 A new research and innovation partnership between CREATE and the UW Institute of Learning and Brain Sciences (I-LABS) focuses on access, mobility, and the brain, especially how early experiences with mobility technology impact brain development and learning outcomes.
---
August 7, 2022
CREATE is pleased to be a financial and advisory sponsor of HuskyADAPT, an interdisciplinary community that is dedicated to improving the availability of accessible technology in Washington and fostering conversations about the importance of accessible design.  HuskyADAPT is led by a team of UW students and six faculty advisors, including CREATE directors Kat Steele, Heather Feldner, Anat Caspi and Jennifer Mankoff….
---
August 3, 2022
Animated GIFs, prevalent in social media, texting platforms and websites, often lack adequate alt-text descriptions, resulting in inaccessible GIFs for blind or low-vision (BLV) users and the loss of meaning, context, and nuance in what they read. In an article published in the Proceedings of the ACM Conference on Human Factors in Computing Systems (CHI…
---
June 7, 2022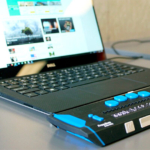 Working with screen-reader users, CREATE graduate student Ather Sharif and Co-Director Jacob O. Wobbrock, along with other UW researchers, have designed VoxLens, a JavaScript plugin that allows people to interact with visualizations. To implement VoxLens, visualization designers add just one line of code. Millions of Americans use screen readers for a variety of reasons, including…
---
January 24, 2022
The Association for Computing Machinery announced the 2020 Best Paper Award goes to Use of Intelligent Voice Assistants by Older Adults with Low Technology Use, co-authored by CREATE associate director Leah Findlater, Alisha Pradhan and Amanda Lazar. The team conducted a 3-week field deployment of the Amazon Echo Dot in the homes of seven older adults to understand…
---
November 17, 2021
Collaboration and diverse perspectives and approaches are at the heart of CREATE's mission to make technology accessible and make the world accessible though technology. One program developed by CREATE faculty looks at mobility solutions and ways to eliminate barriers. Hosted by CREATE associate directors Kat Steele and Heather Feldner, the Reimagining Mobility Conversation Hub brings…
---
September 14, 2021
On October 13, 2021 Karen Braitmayer shared images from her experience of— and critical goals for— inclusive architecture. Noting that the best and brightest designers might come in bodies that are different than employers expect, she called for design schools to welcome students with disabilities and for design firms to hire and support the careers…
---
June 24, 2021
CREATE Community Day 2021 was a rich program that included an important discussion of the concerns and approaches to just, sustainable accessibility research that puts the needs of community members with disabilities front and center.
CREATE members highlighted what their labs are doing, with time to hear about a variety of individual projects. Read on for a sample of the presentations.
---
June 2, 2021
Schedule of events for the 2021 CREATE Research Showcase. Open to the public, CREATE faculty and students share research in accessibility.
---
April 7, 2021
Barry Long is an advocate for people with disabilities who is helping to make real estate more accessible. Watch our third Conversation Hub session, where Long shares past challenges and future improvements in inclusive, visitable homes.
---
October 29, 2020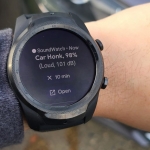 October 28, 2020 | UW News UW CREATE faculty members Jon Froehlich and Leah Findlater have helped develop a smartwatch app for d/Deaf and hard-of-hearing people who want to be aware of nearby sounds. The smartwatch will identify sounds the user is interested in — such as a siren, a water faucet left on, or…
---
July 23, 2020
July 23, 2019 | SeattleMet With the goal of making navigating our streets safer and easier for the mobility impaired, Jon Froehlich's Project Sidewalk turns mapping sidewalks and improving pedestrian accessibility into a virtual game. To complete missions, users "walk" through city streets via Google Street View, labeling and rating the quality of sidewalks and…
---
May 27, 2020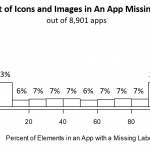 Medium | May 26, 2020 For most of us, the day seems to revolve around our phones: check email, read the news, pay bills, and get directions to the store. Mobile apps are essential in day-to-day life. Unfortunately, many apps fail to be fully accessible to people with disabilities or those who rely on assistive…
---
Next page