UW CREATE
RESEARCH
---
August 22, 2022
CREATE's 2nd Annual Community Day took place on June 8th and was a tremendous success. With over 100 registered participants and presenters, this year's event demonstrates strong growth, returning to in-person (and also virtual) panel discussions and a research showcase of 14 project teams. This year's panels addressed the disproportionate impact of access to assistive…
---
August 3, 2022
Animated GIFs, prevalent in social media, texting platforms and websites, often lack adequate alt-text descriptions, resulting in inaccessible GIFs for blind or low-vision (BLV) users and the loss of meaning, context, and nuance in what they read. In an article published in the Proceedings of the ACM Conference on Human Factors in Computing Systems (CHI…
---
June 7, 2022
Working with screen-reader users, CREATE graduate student Ather Sharif and Co-Director Jacob O. Wobbrock, along with other UW researchers, have designed VoxLens, a JavaScript plugin that allows people to interact with visualizations. To implement VoxLens, visualization designers add just one line of code. Millions of Americans use screen readers for a variety of reasons, including…
---
January 24, 2022
The Association for Computing Machinery announced the 2020 Best Paper Award goes to Use of Intelligent Voice Assistants by Older Adults with Low Technology Use, co-authored by CREATE associate director Leah Findlater, Alisha Pradhan and Amanda Lazar. The team conducted a 3-week field deployment of the Amazon Echo Dot in the homes of seven older adults to understand…
---
November 17, 2021
Collaboration and diverse perspectives and approaches are at the heart of CREATE's mission to make technology accessible and make the world accessible though technology. One program developed by CREATE faculty looks at mobility solutions and ways to eliminate barriers. Hosted by CREATE associate directors Kat Steele and Heather Feldner, the Reimagining Mobility Conversation Hub brings…
---
September 14, 2021
On October 13, 2021 Karen Braitmayer shared images from her experience of— and critical goals for— inclusive architecture. Noting that the best and brightest designers might come in bodies that are different than employers expect, she called for design schools to welcome students with disabilities and for design firms to hire and support the careers…
---
June 24, 2021
CREATE Community Day 2021 was a rich program that included an important discussion of the concerns and approaches to just, sustainable accessibility research that puts the needs of community members with disabilities front and center.
CREATE members highlighted what their labs are doing, with time to hear about a variety of individual projects. Read on for a sample of the presentations.
---
June 2, 2021
Schedule of events for the 2021 CREATE Research Showcase. Open to the public, CREATE faculty and students share research in accessibility.
---
April 7, 2021
Barry Long is an advocate for people with disabilities who is helping to make real estate more accessible. Watch our third Conversation Hub session, where Long shares past challenges and future improvements in inclusive, visitable homes.
---
March 3, 2021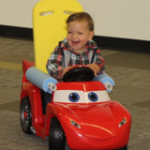 A new research and innovation partnership between CREATE and the UW Institute of Learning and Brain Sciences (I-LABS) focuses on access, mobility, and the brain, especially how early experiences with mobility technology impact brain development and learning outcomes.
---
Next page