Join our newsletter and email list
Two or three times a year, we share a detailed look at recent Center developments, research achievements, education highlights and opportunities to engage with us.
To make sure you receive email with links to newsletters and reports:
Subscribe to a CREATE email list
Year 2 Impact Report – Academic year 2021-2022
Through hard work in the field of accessible technology research, education, and translation, CREATE members are making impact together and it shows!
The Year 2 Impact Report details much of the work CREATE has been doing in the 2021-2022 academic year.
In this report:
Research: 41 published papers and high-impact, collaborative research on wearable devices, more accessible virtual reality and mobile apps, and awards and honors.
Education: Accessibility integrated into courses, 6 Ph.D. students, and support for students through grants and teaching.
Translation: Project Sidewalk, Pointing Magnifier, Blocks4All, Hour of Code, AI4All summer camp, AI for Inclusive Urban Sidewalks, and more.
Advocacy: Inclusive practices for hiring, interviewing and lecturing, biometric data fairness, remote learning, support for disabled faculty and students, state- and international-level advocacy.
Operations: 12 new faculty members, 4 postdocs, a second Advisory Board meeting, and a new community engagement manager.
Finance: $5,539,747 raised, 3 corporate partners–Microsoft, Google, and Meta.
---
Year 1 Impact Report – Academic year 2020-2021
In this report:
Research: 55 papers on accessible technology, launch of collaboration with UW I-LABS, new postdocs, numerous awards
Education: student mini-grants and study away programs, seminar on accessibility and race, workshops and more awards
Translation: Reimagining Mobility conversations with 150 members, research displayed on the Google Play store, our first Community Day
Operations: Advisory Board formed, leadership and membership structures defined
Fundraising: progress toward five-year, $10M goal with corporate donors and a training grant
---
CREATE Digest newsletter archives
As a community, CREATE leadership gathered last month to brainstorm next steps as the center has moved past its infancy and is zooming right into young adulthood. Our 'family' continues to garner praise – most recently in the form of SIGCHI awards – and grow as we build strong partnerships. This month, CREATE hosted a cross-campus meeting to learn about intersection of race and disability and consider innovative solutions. And we continue to work with community partners like The Here and Now Project to learn from the lived experiences of people with disabilities. We're excited that our story is being told in a feature article by the UW College of Engineering.
A busy and productive Autumn quarter, coinciding with conferences led by CREATE faculty, means we have lots to share! CREATE faculty, students, and partners are making technology accessible and developing technology to make the world accessible. Support for CREATE's work has never been greater and never been more necessary. Please join the conversations and partner with us!
The August issue of the Digest brings an update on research that makes sense of Homer Simpson and other automated GIFs for visually impaired users and a punny report on a recent CREATE-funded hackathon. We are pleased to announce our sponsorship of a student-led UW group that seeks to improve the availability of accessibility technology and share a little bit about our amazing faculty, students and postdocs. Thanks for reading!
If you're new to CREATE's mission, co-directors Jacob O. Wobbrock and Jennifer Mankoff summarized the center's research, translation, and education efforts in Expanding the Pipeline, recently published in Computing Research News. For the latest CREATE news, the May issue of the Digest has updates on research, awards, new partners, graduating students, and an excerpt of an essay on how employers benefit from hiring people with disabilities.
In this issue we share research news, insights, and upcoming events. We include a summary of research that examines what is meant by "accessibility research" and an answer to an RFI on disability bias in biometrics. Six faculty and students received awards, honors and scholarships.
---
Inaugural CREATE Newsletter – Winter 2021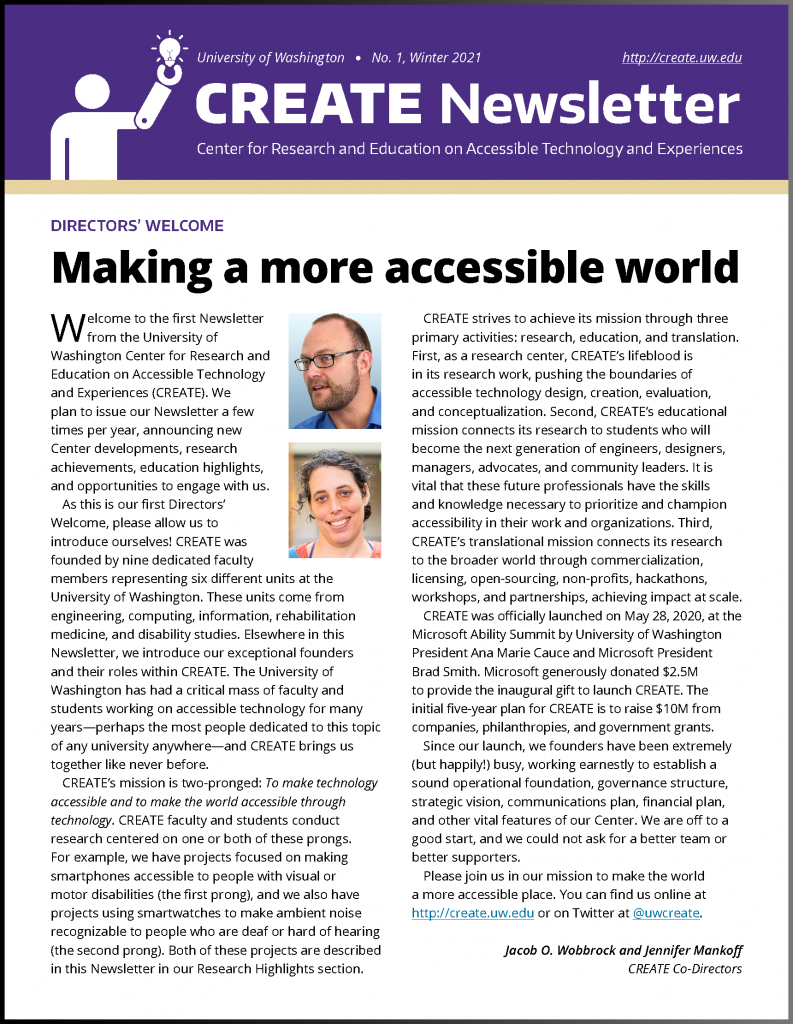 In this issue:
Making a more accessible world
Advisory board formed
Joining forces with I-LABS
App visualizes ambient sounds for deaf users
Many mobile apps are inaccessible
Faculty news
Workshops and seminars
PDF of the inaugural issue of the CREATE Newsletter, Winter 2021. Click image to open PDF.