UW CREATE
Heather Feldner news articles
---
November 8, 2023
November 7, 2023 Adapted ride-on cars (ROC) are an affordable, power mobility training tool for young children with disabilities. But weather and adequate drive space create barriers to families' adoption of their ROC. CREATE Ph.D. student Mia E. Hoffman is the lead author on a paper that investigates the relationship between the built environment and…
---
October 6, 2022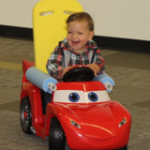 A new research and innovation partnership between CREATE and the UW Institute of Learning and Brain Sciences (I-LABS) focuses on access, mobility, and the brain, especially how early experiences with mobility technology impact brain development and learning outcomes.
---
March 22, 2022
CREATE Associate Director Heather Feldner has ​authored two guidebooks, instructing caregivers, researchers and ​clinicians how to introduce Permobil's ​Explorer Mini to young children between the ages of 12 and 36 months. Permobil's Explorer Mini is a new, lightweight, joystick-operated powered mobility device ​that provides opportunities for mobility, exploration, and play for children with disabilities at ages and stages that are more equitable compared to…
---
February 23, 2022
Heather Feldner and Mark Harniss team received a blue ribbon award as one of the top 3 posters for Social Responsibility at an American Physical Therapy Association meeting.
---
November 17, 2021
Collaboration and diverse perspectives and approaches are at the heart of CREATE's mission to make technology accessible and make the world accessible though technology. One program developed by CREATE faculty looks at mobility solutions and ways to eliminate barriers. Hosted by CREATE associate directors Kat Steele and Heather Feldner, the Reimagining Mobility Conversation Hub brings…
---
October 7, 2021
UW Go Baby Go, co-directed by CREATE Associate Director Heather Feldner, is excited to announce its fall workshop where we will build ten Go Baby Go cars for local children with disabilities and their families! UW and CREATE students, postdocs, and faculty (especially from engineering, computer science, and rehab programs), local clinicians, and parents/caregivers are all…
---
June 24, 2021
A team of CREATE faculty has received a five-year, $1M grant from the National Institute on Disability, Independent Living, and Rehabilitation Research (NIDILRR) for the project, "ARRT: Postdoctoral Training in Physical Computing and Fabrication to Support Innovations for Community Living and Participation." Congratulations on the funding to the team members: Co-PI Jennifer Mankoff, Ph.D and…
---
October 22, 2020
CREATE Associate Director Heather Feldner and her research team have been awarded a pilot research grant from the newly founded NIH Pediatric Rehabilitation Resource Center (C-PROGRESS) to study early mobility technology. The team, one of only three selected across the country, includes Sam Logan, an associate professor at Oregon State University, and Lisa Kenyon, a…
---
October 5, 2020
Mobility is a central part of accessibility and this new Conversation Hub, hosted by CREATE Associate Directors Kat Steele and Heather Feldner, provides a way to connect and learn from guests who are engaged in critical mobility work — ranging from researchers to small business owners to self-advocates. We will dive deeply into conversations about…
---
July 29, 2020
CREATE faculty are already internationally recognized for their contributions to assistive technology and accessible computing; by bringing them together under one organizational roof, CREATE will enable synergies and foster collaborations that enable faculty and students to become more than the sum of their parts.
---
May 20, 2020
UW faculty and staff affiliated with CREATE, UW Disability Studies and the UW D Center have received a grant from the Center for Leadership and Innovation in Medical Education (CLIME) to explore what it means to be an ally to people with disabilities. "This is an integral issue informing professional education in the medical fields as well as…
---