UW CREATE
A Ph.D. Student's Promising Research in Mobility in Cerebral Palsy
Whether she's researching how biofeedback systems can guide gait training in children with cerebral palsy or leading toy adaptation events, Alyssa Spomer is committed to advancing accessible technology.
A Ph.D. student in UW Mechanical Engineering (ME) and advised by CREATE Associate Director Kat Steele, Spomer is the student chair of CREATE-sponsored HuskyADAPT. Her studies have been multidisciplinary, spanning ME and rehabilitation medicine. She uses her engineering skills to understand the efficacy of using robotic devices to target and improve neuromuscular control during walking.
"Delving into how the central nervous system controls movement and how these systems are impacted by brain injury has been such an interesting aspect of my work," Spomer says. "My research is a mix of characterizing the capacity for individuals to adapt their motor control and movement patterns, and evaluating the efficacy of devices that may help advance gait rehabilitation."
In her dissertation work, Spomer is primarily evaluating how individuals adapt movement patterns while using a pediatric robotic exoskeleton paired with an audiovisual biofeedback system that she helped design. The Biomtoum SPARK exoskeleton works to sense and support motion at the ankle during walking, using motors worn on a hip belt to provide either resistance or assistance to the ankles during walking. The audiovisual system is integrated into the device's app and provides the user with real-time information on their ankle motion alongside a desired target to help guide movement correction.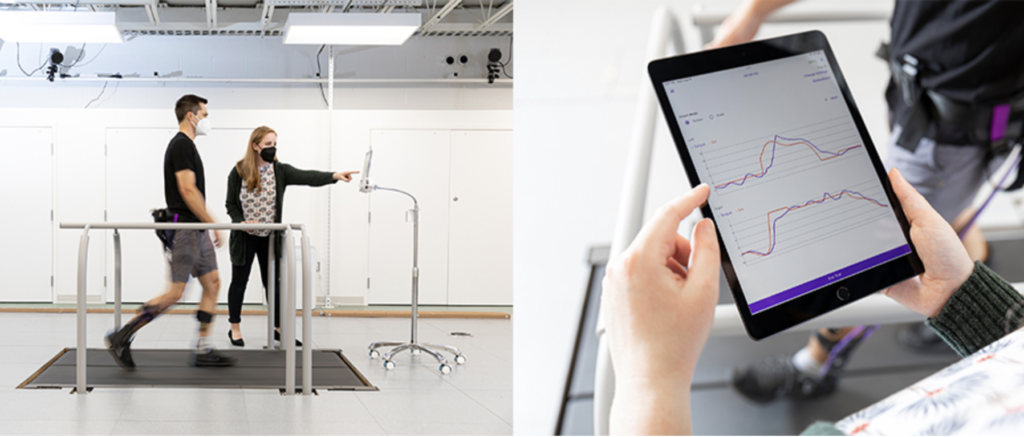 Inspired by CREATE's Kat Steele and the Steele Lab
Spomer was drawn to ME by the Steele Lab's focus on enhancing human mobility through engineering and design. Working with Kat Steele has been a highlight of her time at the UW.
"I really resonated with Kat's approach to research," Spomer says. "The body is the ultimate machine, meaning that we as engineers can apply much of our foundational curriculum in dynamics and control to characterize its function. The beauty of ME is that you are able to develop such a rich knowledge base with numerous applications which really prepares you to create and work in these multidisciplinary spaces."
This winter, Spomer will begin a new job at Gillette Children's Specialty Healthcare. She's excited to pursue research that aligns with her Ph.D. work. Her goal remains the same: "How can we advance and improve the accessibility of healthcare strategies to help promote independent and long-term mobility?"
Excerpted from UW Mechanical Engineering, written by Lyra Fontaine with photos by Mark Stone, University of Washington. Read the full article