UW CREATE
CREATE Leadership at ASSETS'22 Conference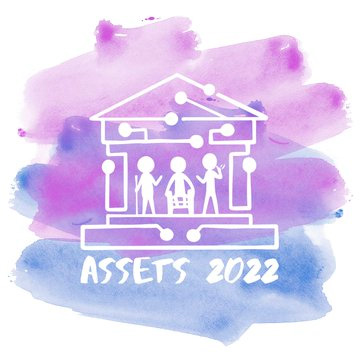 CREATE Associate Director Jon Froehlich was the General Chair for ASSETS'22, the premier ACM conference for research on the design, evaluation, use, and education related to computing for people with disabilities and older adults. This year, over 300 participants from 37 countries engaged with state-of-the-art research in the design and evaluation of technology for people with disabilities. UW CREATE was a proud sponsor of ASSETS'22.
Keynote speaker Haben Girma is the first Deafblind graduate of Harvard Law School and a leading human rights advocate in disability. Girma highlighted systemic ableism in education, employment, and tech and opportunities for change in her speech.
"There is a myth that non-disabled people are independent and disabled people are dependent. We are all interdependent. Many of you like drinking coffee; very few of you grow your own beans," she pointed out.
ASSETS'22 was held in Athens, Greece. "The birthplace of democracy, we were surrounded by so many beautiful antiquities that highlighted the progress and innovation of humanity and served as inspiration to our community," said Froehlich.
"Perhaps my favorite experience was the accessible private tours of the Acropolis Museum with conference attendees—hearing of legends, seeing the artistic craft, and moving about a state-of-the-art event center all in the shadow of the looming Acropolis was an experience I'll never forget," he added.
Artifact awards
CREATE Ph.D. student Venkatesh Potluri, advised by CREATE Co-Director Jennifer Mankoff in the Make4All Group, and his team tied for 1st place for the Artifact Award. Potluri presented their work on CodeWalk, Facilitating Shared Awareness in Mixed-Ability Collaborative Software Development.
Third place went to Ather Sharif's team, advised by Jacob Wobbrock, UnlockedMaps: Visualizing Real-Time Accessibility of Urban Rail Transit Using a Web-Based Map.
Future of urban accessibility
As part of the conference, Froehlich, Heather Feldner, and Anat Caspi held a virtual workshop entitled the "Future of Urban Accessibility" More here: https://accessiblecities.github.io/UrbanAccess2022/