UW CREATE
Research Workshop for Undergraduates with Disabilities
CREATE and UW AccessComputing co-sponsored a 3-day research-focused workshop for undergraduates in computing fields who have disabilities. The OurCS@AccessComputing+CREATE workshop was held virtually on January 13 – 15, 2021.
Forty-six undergraduate students from around the nation participated in the workshop along with 10 faculty mentors who work in various research areas. The keynote speakers were Dr. Elaine Short from Tufts University, Dr. Nicholas Giudice from the University of Maine, and Dr. Jeanine Cook from Sandia National Laboratory.
Participants also heard a panel of senior students and recently finished graduate students with disabilities talk about their own experiences in graduate school. Each of the mentors led a short course on research in their area of expertise and were available to network with students.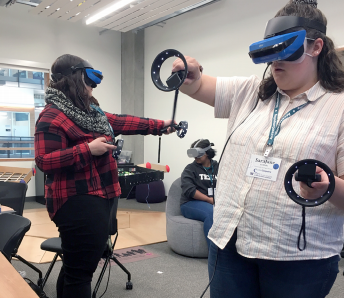 Eddith Figueroa, a student at the University of Texas at Austin appreciated hearing about the panelists' experiences. "I really enjoyed the panel of people who were in grad school. It gave me a lot of perspective into what it would be like to try and go to grad school with a disability," Figueroa said. Cameron Cassidy from Texas A&M University highlighted the information about graduate school, saying, "Professors Milne and Ladner shared a lot of good information about graduate school, which made me more comfortable in my decision to pursue an advanced degree."
And Nayha Auradkar of the University of Washington found the networking opportunities valuable. "I learned a lot through networking with research leaders and engaging in the interactive research workshops," Auradkar said.
Funding for this workshop was provided by Google Explore CSR with additional support from AccessComputing and the UW Center for Research and Education on Accessible Technology and Experiences (CREATE).
AccessComputing is a valued partner of CREATE, helping CREATE in its objective to help "create pathways for more individuals with disabilities to
pursue careers in technology innovation."