UW CREATE
Accessible CS Education workshop focuses on inclusive experiences
Amid a global pandemic, innovative thinkers have been hard at work developing plans to improve equity in modern learning environments. The Accessible Computer Science Education Fall Workshop was held November 17-19, 2020, and jointly sponsored by Microsoft, The Coleman Institute for Cognitive Disabilities, and CREATE.
Each day of the event focused on strategies to improve classroom experiences for students and faculty with disabilities. You can watch recorded sessions where speakers provided a wide range of perspectives on computer science pedagogy and how to increase diversity, equity, and inclusion in computing disciplines.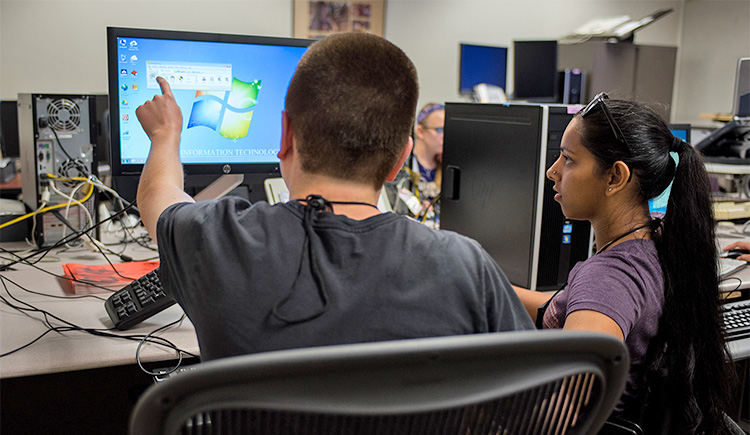 Two students work together on a computer screen using accessibility tools.
The event provided an intimate environment to share work and establish new collaborations. The most visible result, for now, is five white papers and action plans taken from the break-out group reports (CREATE faculty contributors noted):
---
The program resulted in more than conversations; each group developed formal white papers and action plans that will guide future research and collaboration.

---
Throughout the workshop, participants focused on four areas:
Education for employment pathways
Making K-12 computing education accessible
Making higher education in computing accessible
Building accessible hardware and systems.
Conversations generated ideas about technologies that can boost employment and assist people with disabilities who experience barriers in various learning environments.
The committee behind the event successfully cultivated a productive and inclusive atmosphere that sponsors hope will translate to future projects. Members of the committee include Andrew Begel, Heather Dowty, Cecily Morrison, Teddy Seyed, and Roy Zimmerman from Microsoft; Anat Caspi and Richard Ladner from UW CREATE; and Clayton Lewis from the University of Colorado Boulder.