UW CREATE
Announcements
---
June 9, 2023
June 9, 2023 We're proud to see these talented, passionate students receive their Ph.D.s and excited to see how they continue their work in accessibility. Alyssa Spomer, Ph.D. Mechanical Engineering Current: Clinical Scientist at Gillette Children's Hospital, leading research in the Gillette Rehabilitation Department to improve healthcare outcomes for children with complex movement conditions. Elijah…
---
June 6, 2023
Congratulations to Emma McDonnell on receiving a Dennis Lang Award from the UW Disability Studies program! McDonnell, a fourth year Ph.D. candidate in Human Centered Design & Engineering, is advised by CREATE associate director Leah Findlater. McDonnell's research focuses on accessible communication technologies and explores how these tools could be designed to engage non-disabled people…
---
May 25, 2023
The U.S. Department of Labor has made available $2 million for the first year of a cooperative agreement for an employer-focused, disability policy development and technical assistance center. The Employer Assistance and Resource Network on Disability Inclusion (EARN) helps employers, human resources professionals, and diversity, equity, inclusion and accessibility staff find the resources they need…
---
April 25, 2023
Just about everybody in business, education, and artistic settings needs to use presentation software like Microsoft PowerPoint, Google Slides, and Adobe Illustrator. These tools use artboards to hold objects such as text, shapes, images, and diagrams. But for blind and low vision (BLV) people, using such software adds a new level of challenge beyond keeping…
---
April 11, 2023
The machines and devices we use every day – for example, touch screens, gas pedals, and computer track pads – interpret our actions and intentions via sensors. But these sensors are designed based on assumptions about our height, strength, dexterity, and abilities. When they aim for the average person (who does not actually exist), they…
---
April 10, 2023
In April 2023, CREATE hosted its first ever Accessible eSports Showcase event, bringing together members of the CREATE community, local community organizations, tech and games Corporate Partners, and folks from all over the Seattle area looking to learn about and celebrate ongoing strides being made in making video games more inclusive and accessible to people…
---
April 8, 2023
International Disability Rights: Past, Present, & FuturePublic Lecture with Senator Floyd Morris Wednesday, April 19, 2023, 2:30 p.m. HUB 340Free and open to the public Floyd Morris, Ph.D., is the Director of the Centre for Disability Studies at the University of the West Indies, a current Member and Past President of the Senate of Jamaica…
---
March 14, 2023
CREATE welcomes our newest Advisory Board member, ChrisTiana ObeySumner. ObeySumner (they/them) is the CEO and principal consultant of Epiphanies of Equity LLC (https://www.christianaobeysumner.com/), a social equity consulting firm specializing in change management, social and organizational psychology, intersectional equity and liberation, and disability justice. For two decades, they've dedicated their life and career to exploring and…
---
March 8, 2023
The CSE 121, 122, and 123 introductory course sequence lets students choose their entry point into computer science and engineering studies, whatever their background, experience, or confidence level. And, as part of the effort to improve diversity, equity, inclusion, and accessibility (DEIA), the courses were designed with "accessibility from the start." A member of the…
---
March 7, 2023
Judy Heumann — disability activist and leader, presidential advisor to two administrations, polio survivor and quadriplegic — passed away on Saturday, March 4. Heumann's family invited the community to honor her life at a memorial service and burial that is now available on video with ASL, captioning, and English interpretation of Yiddish included. Who was Judy Heumann?…
---
December 30, 2022
Congratulations to CREATE Advisory Board member Rory Cooper on receiving the 2022 IEEE Biomedical Engineering Award! For more than 25 years, Cooper has been developing technology to improve the lives of people with disabilities and his inventions have helped countless wheelchair users get around with more ease and comfort. Cooper's first innovations in mobility were a modification to the…
---
December 22, 2022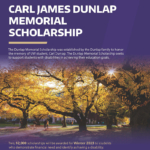 University of Washington student Carl James Dunlap had a powerful impact on the UW community with his vibrant personality and persistent advocacy for students with disabilities. To honor his legacy, the Dunlap family established the Carl James Dunlap Memorial Endowment. The Dunlap Memorial Endowment seeks to support students with disabilities encountering unique challenges when attending…
---
November 30, 2022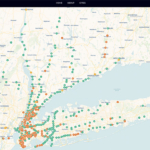 Congratulations to CREATE Ph.D. student Ather Sharif, Orson (Xuhai) Xu, and team for this great project on transit access! Together they developed UnlockedMaps, a web-based map that allows users to see in real time how accessible rail transit stations are in six metro areas including Seattle, Philadelphia (where the project was first conceived by Sharif and a friend…
---
November 19, 2022
The Agency for Healthcare Research and Quality (AHRQ) requested public comment about comprehensive, longitudinal, person-centered care planning for people with Multiple Chronic Conditions (MCC). CREATE contributed to a disability justice-focused response that highlights nine recommendations: Read the full response (PDF).
---
September 12, 2022
CREATE faculty member Stephanie Kerschbaum has contributed to a set of guidelines to help UW faculty plan, design, and adapt their teaching around students' needs. "Accessibility is about recognizing that access is a complex, relational configuration as people move and share space together. Accessible teaching requires us to be in conversation with and responsive to…
---
April 23, 2022
Congratulations to CREATE Co-Director Jennifer Mankoff! She has been awarded a 2022 Social Impact Award by SIGCHI, the special interest group of the Association for Computing Machinery (ACM) for professionals, academics and students interested in human-technology and human-computer interaction (HCI). Mankoff was cited for research focused on accessibility to give people the voice, tools and…
---
February 10, 2022
CREATE's response to the Science and Technology Policy Office's request for "Information on Public and Private Sector Uses of Biometric Technologies"
---
January 26, 2022
We congratulate CREATE Co-Director Jacob O. Wobbrock on being named an ACM Fellow by the Association for Computing Machinery for his contributions to human-computer interaction and accessible computing! Wobbrock's research seeks to understand and improve people's interactions with computers and information, especially for people with disabilities. He is the primary creator of ability-based design, which scrutinizes…
---
November 16, 2021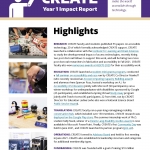 A whirlwind year of accessible technology research, education, collaboration, fundraising and recognition is highlighted in CREATE's Year 1 Impact Report.
---
October 7, 2021
UW Go Baby Go, co-directed by CREATE Associate Director Heather Feldner, is excited to announce its fall workshop where we will build ten Go Baby Go cars for local children with disabilities and their families! UW and CREATE students, postdocs, and faculty (especially from engineering, computer science, and rehab programs), local clinicians, and parents/caregivers are all…
---
Next page