UW CREATE
Announcements
---
January 26, 2022
We congratulate CREATE Co-Director Jacob O. Wobbrock on being named an ACM Fellow by the Association for Computing Machinery for his contributions to human-computer interaction and accessible computing! Wobbrock's research seeks to understand and improve people's interactions with computers and information, especially for people with disabilities. He is the primary creator of ability-based design, which scrutinizes…
---
November 16, 2021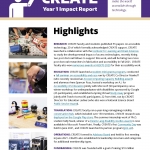 A whirlwind year of accessible technology research, education, collaboration, fundraising and recognition is highlighted in CREATE's Year 1 Impact Report.
---
October 7, 2021
UW Go Baby Go, co-directed by CREATE Associate Director Heather Feldner, is excited to announce its fall workshop where we will build ten Go Baby Go cars for local children with disabilities and their families! UW and CREATE students, postdocs, and faculty (especially from engineering, computer science, and rehab programs), local clinicians, and parents/caregivers are all…
---
September 21, 2021
Sign up for the Conversations In December 2021, CREATE faculty Anat Caspi and Jon Froehlich discussed the innovative ways they are using AI, crowdsourcing, and translational research to reimagine urban accessibility. Teams from the UW Makeability Lab and the UW Taskar Center for Accessible Technology have worked to develop and deploy tools like AccessMaps, OpenSidewalks,…
---
September 14, 2021
On November 18, 2021 Dr. Yochai Eisenberg shared successes and challenges in the pursuit of accessible pedestrian networks. We discussed community mobility as it relates to accessible pathways, use of public transportation, and modes of travel to destinations. Dr. Eisenberg described a systematic mobility evaluation, detailed some of the findings, and shared the conclusion that…
---
On October 13, 2021 Karen Braitmayer shared images from her experience of— and critical goals for— inclusive architecture. Noting that the best and brightest designers might come in bodies that are different than employers expect, she called for design schools to welcome students with disabilities and for design firms to hire and support the careers…
---
August 16, 2021
Anthro-Tech is looking for people who use screen readers and other assistive technology to participate in a usability study on the Washington State Department of Transportation (WSDOT) website redesign. During a study session, the facilitator will show the participant the new website and ask them to use it to complete a few tasks. Sessions will take place…
---
July 19, 2021
UW researchers are seeking participants for a paid study. Who: People who are blind or low vision who use a screen reader and are 18 years or older.What: Participants will be asked to test 3D-printed tactile maps. Sessions are 60 minutes. For details, see the signup survey.Where: UW Seattle campus.When: August.Compensation: $40 and a travel…
---
June 2, 2021
Schedule of events for the 2021 CREATE Research Showcase. Open to the public, CREATE faculty and students share research in accessibility.
---
March 15, 2021
Amid a global pandemic, innovative thinkers have been hard at work developing plans to improve equity in modern learning environments. The Accessible Computer Science Education Fall Workshop was held November 17-19, 2020, and jointly sponsored by Microsoft, The Coleman Institute for Cognitive Disabilities, and CREATE. Each day of the event focused on strategies to improve…
---
Previous page
Next page