UW CREATE
UW and CREATE extended family shine in SIGCHI Awards
We're so proud to have learned from and collaborated with these shining stars! UW and CREATE faculty and our extended family are prominent in the recently announced 2023 SIGCHI Awards. All three winners of the SIGCHI dissertation award, which recognizes "the most outstanding research contributions from recently graduated Ph.D. students within the HCI community" are associated with the UW, CREATE, and/or our campus partner, UW DUB (Design. Use. Build).
Congratulations to all!

Dhruv Jain, '22 Ph.D. UW Computer Science & Engineering
Jain's dissertation was honored for "advancing the design and evaluation of interactive systems to improve sound awareness for people who are deaf or hard of hearing (DHH). This research, drawing on his own experience as a person who is hard of hearing, has two goals: first, to better understand how DHH people feel about technology-mediated sound awareness and how these feelings manifest across contexts; and second, to design, build, and study new technical solutions for sound using iterative, human-centered design." Jain is now an Assistant Professor in Computer Science and Engineering at the University of Michigan.
Lukoff's dissertation Designing to Support Sense of Agency for Time Spent on Digital Interfaces addresses the problem that mobile devices are omnipresent in many people's lives, and yet many people are dissatisfied with how much and when they use them. They adopt various devices and apps for their promise to connect with others, to accomplish tasks, and to be entertained, but may then find that their use–or others' use–of those very same apps and devices gets in the way of connection, productivity, and meaningful entertainment. Lukoff is now an assistant professor in computer science and engineering at Santa Clara University, where he directs the Human-Computer Interaction Lab. Read more about Lukoff's research on HCDE.
Megan Hofmann, '22 Ph.D. Human-Computer Interaction, Carnegie Mellon
SIGCHI recognizes Hofmann's research on "Optimizing Medical Making" for taking "a strong interdisciplinary approach, both with improved understanding of an important domain, and substantive technical contributions, using methodologies ranging from systems and programming language contributions, to ethnographic methods. This has allowed the work to make contributions in multiple areas such as accessibility, software tools, and digital fabrication." Hofmann was advised by CREATE co-director Jennifer Mankoff at Carnegie Mellon University. Hofmann is currently an assistant professor of computer science and mechanical engineering at the Khoury College of Computer Sciences at Northeastern University.
---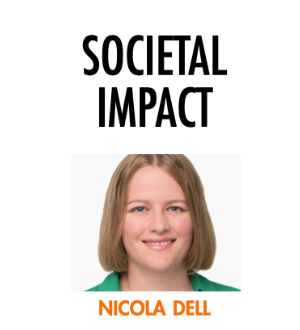 Nicola Dell, '15 Ph.D. UW Computer Science and Engineering
Dell received a Societal Impact Award, cited for exemplary work that represents an unusually 'full stack' model of intervention and social impact. "She has been the driving force in putting tech-related Intimate Partner Violence abuses on the radar of companies, government, and HCI as a field; has offered direct and meaningful support to survivors; and has produced real-world changes that have begun to combat this pervasive and insidious problem." Dell is currently an associate professor of information and computer science at Jacobs Technion-Cornell Institute.
CREATE Co-director Jennifer Mankoff received the Social Impact Award in 2022.
---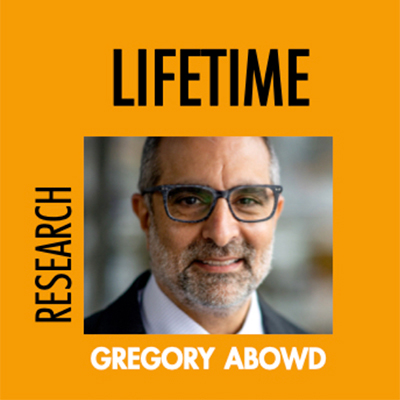 Gregory Abowd, '91 Ph.D. Computation, University of Oxford, UK
Mentor and advisor to some of the most influential leaders in accessibility, usability, and HCI at the UW and beyond.
And we're appreciating the influence of Lifetime Research Award recipient Gregory Abowd, '91 Ph.D. Computation, University of Oxford, UK. A leader in disability research with a focus specifically on autism, Abowd has mentored or advised CREATE co-director Jennifer Mankoff and many CREATE members and DUB faculty, including Anind Dey (Dean of the UW iSchool), Julie Kientz (Chair of UW HCDE), and Shwetak Patel (professor in UW CSE and ECE). SIGCHI described Abowd as, "A world leader in the invention and application of ubiquitous computing technologies, his work has defined the field over the past three decades, and his intellectual contributions have shaped two major themes in ubiquitous computing: context-aware computing and automated capture and access of live experiences. He has shown how a variety of application areas—the classroom, the home, autism, and health care—benefit from innovations in mobile and ubiquitous technologies.