UW CREATE
Awards
---
June 6, 2023
Congratulations to Emma McDonnell on receiving a Dennis Lang Award from the UW Disability Studies program! McDonnell, a fourth year Ph.D. candidate in Human Centered Design & Engineering, is advised by CREATE associate director Leah Findlater. McDonnell's research focuses on accessible communication technologies and explores how these tools could be designed to engage non-disabled people…
---
February 19, 2023
We're so proud to have learned from and collaborated with these shining stars! UW and CREATE faculty and our extended family are prominent in the recently announced 2023 SIGCHI Awards. All three winners of the SIGCHI dissertation award, which recognizes "the most outstanding research contributions from recently graduated Ph.D. students within the HCI community" are…
---
December 30, 2022
Congratulations to CREATE Advisory Board member Rory Cooper on receiving the 2022 IEEE Biomedical Engineering Award! For more than 25 years, Cooper has been developing technology to improve the lives of people with disabilities and his inventions have helped countless wheelchair users get around with more ease and comfort. Cooper's first innovations in mobility were a modification to the…
---
November 15, 2022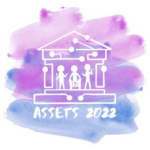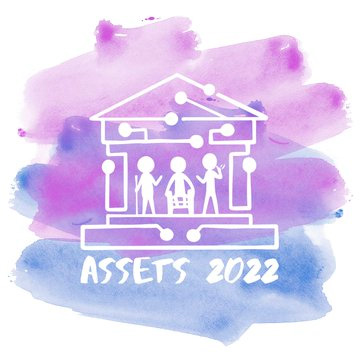 CREATE Associate Director Jon Froehlich was the General Chair for ASSETS'22, the premier ACM conference for research on the design, evaluation, use, and education related to computing for people with disabilities and older adults. This year, over 300 participants from 37 countries engaged with state-of-the-art research in the design and evaluation of technology for people…
---
April 23, 2022
Congratulations to CREATE Co-Director Jennifer Mankoff! She has been awarded a 2022 Social Impact Award by SIGCHI, the special interest group of the Association for Computing Machinery (ACM) for professionals, academics and students interested in human-technology and human-computer interaction (HCI). Mankoff was cited for research focused on accessibility to give people the voice, tools and…
---
February 23, 2022
Heather Feldner and Mark Harniss team received a blue ribbon award as one of the top 3 posters for Social Responsibility at an American Physical Therapy Association meeting.
---
February 16, 2022
Congratulations to CREATE Director for Education Richard Ladner on being named a Fellow of the American Association for the Advancement of Science (AAAS)! He is among 564 new fellows from around the world elected in 2021 for distinguished achievements in science and engineering. Ladner was recognized for his advocacy and inclusion efforts for people with…
---
October 22, 2021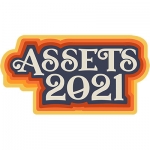 CREATE faculty and alumni scooped up several awards at the ASSETS 2021 conference. Paper Impact Award: Mankoff, Best Paper award: Katharina Reinecke, Best Artifact: scia11y team.
---
June 9, 2021
Congrats to CREATE Associate Director Jon Froehlich on being selected for the Outstanding Faculty Award by the UW College of Engineering! As noted by the College, Froehlich went to extraordinary measures to support his students' learning during the pandemic. He fundamentally transformed physical computing courses for virtual platforms, assembled and mailed hardware kits to students'…
---
August 13, 2020
National Science Board | August 11, 2020 Dr. Richard Ladner, CREATE's Director for Education, has been named the 2020 recipient of the Public Service Award for an individual from the National Science Board (NSB). In recognizing Ladner, the board cited his exemplary science communication, diversity advocacy, and well-earned reputation as the "conscience of computing." "When…
---
May 20, 2020
UW faculty and staff affiliated with CREATE, UW Disability Studies and the UW D Center have received a grant from the Center for Leadership and Innovation in Medical Education (CLIME) to explore what it means to be an ally to people with disabilities. "This is an integral issue informing professional education in the medical fields as well as…
---
May 19, 2020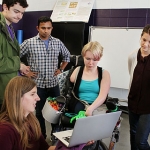 April 2020. Kat Steele, CREATE Associate Director and the Albert S. Kobayashi Endowed Professor of Mechanical Engineering, received a 2020 Faculty Appreciation for Career Education & Training (FACET) award from appreciative students. Presented by the Career Center @ Engineering, the award recognizes faculty members who have positively impacted their career and professional development.
---
March 16, 2020
UW News | March 16, 2020 Four UW CREATE faculty have been named recipients of Google Faculty Research Awards. The grants, among 150 Google recently announced, support world-class technical research in computer science, engineering and related fields. Each award provides funding to support one graduate student for a year. The recipients are Jennifer Mankoff, James Fogarty and Jon Froelich of the Paul G….
---
November 1, 2019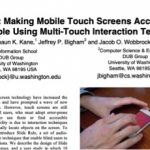 Jacob Wobbrock honored for improving touch-screen accessibility Congratulations to Jacob O. Wobbrock, a founding co-director of CREATE, for his work with Shaun Kane, PhD '11 and Jeffrey Bigham, PhD '09 improving the accessibility of mobile technology. The team received the 2019 SIGACCESS ASSETS Paper Impact Award for their 2008 paper, "Slide Rule: Making mobile touch screens accessible…
---