UW CREATE
Faculty Profiles
---
October 5, 2020
Mobility is a central part of accessibility and this new Conversation Hub, hosted by CREATE Associate Directors Kat Steele and Heather Feldner, provides a way to connect and learn from guests who are engaged in critical mobility work — ranging from researchers to small business owners to self-advocates. We will dive deeply into conversations about…
---
August 13, 2020
National Science Board | August 11, 2020 Dr. Richard Ladner, CREATE's Director for Education, has been named the 2020 recipient of the Public Service Award for an individual from the National Science Board (NSB). In recognizing Ladner, the board cited his exemplary science communication, diversity advocacy, and well-earned reputation as the "conscience of computing." "When…
---
July 29, 2020
CREATE faculty are already internationally recognized for their contributions to assistive technology and accessible computing; by bringing them together under one organizational roof, CREATE will enable synergies and foster collaborations that enable faculty and students to become more than the sum of their parts.
---
July 23, 2020
July 23, 2019 | SeattleMet With the goal of making navigating our streets safer and easier for the mobility impaired, Jon Froehlich's Project Sidewalk turns mapping sidewalks and improving pedestrian accessibility into a virtual game. To complete missions, users "walk" through city streets via Google Street View, labeling and rating the quality of sidewalks and…
---
May 28, 2020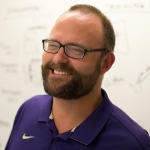 iSchool news, University of Washington | May 28, 2020 Jacob O. Wobbrock, CREATE Co-Director and a professor in the UW Information School, has become one of the world's foremost experts on accessible computing and human-computer interaction. His approach is to create interactive systems that can capitalize on the situated abilities of users, whatever they are, rather…
---
The Seattle Times | May 28, 2020 University of Washington professor Jacob Wobbrock figures the best way to make technology more accessible to disabled people is to anticipate their needs from the very beginning. "The world we live in is built on certain assumptions,'' Wobbrock said. "If we question those assumptions right from the start when…
---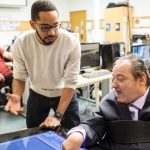 GeekWire | May 28, 2020 Microsoft and the UW have long been aligned in a shared commitment to accessible technology and a world that is more accessible through technology. With a leadership team from six campus departments in three different colleges, CREATE will build upon the UW's existing work in education, research and translation. Read the…
---
May 20, 2020
UW faculty and staff affiliated with CREATE, UW Disability Studies and the UW D Center have received a grant from the Center for Leadership and Innovation in Medical Education (CLIME) to explore what it means to be an ally to people with disabilities. "This is an integral issue informing professional education in the medical fields as well as…
---
May 19, 2020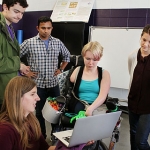 April 2020. Kat Steele, CREATE Associate Director and the Albert S. Kobayashi Endowed Professor of Mechanical Engineering, received a 2020 Faculty Appreciation for Career Education & Training (FACET) award from appreciative students. Presented by the Career Center @ Engineering, the award recognizes faculty members who have positively impacted their career and professional development.
---
March 16, 2020
UW News | March 16, 2020 Four UW CREATE faculty have been named recipients of Google Faculty Research Awards. The grants, among 150 Google recently announced, support world-class technical research in computer science, engineering and related fields. Each award provides funding to support one graduate student for a year. The recipients are Jennifer Mankoff, James Fogarty and Jon Froelich of the Paul G….
---
Previous page
Next page